Our Officers
The IOA has 5 elected officers who carry out 2 year terms each. On even years the position of President and Secretary are elected. On odd years the positions of Vice President, Sergeant At Arms and Treasurer are elected.
Below is a brief summary of the officers who currently serve as your representatives to the community.
Meet The Elected Officers of the IOA
BYRON EFIRD – PRESIDENT
Byron has held the position of President for the IOA since its inception. A passionate rider, he and his wife Cendy have logged 10s of 1,000s of miles from Sturgis to Daytona and everywhere in between.When he is not leading rides through the Ozarks, Byron is the Sales Manager of Teeter Chevrolet in Hot Springs, Ark. He and his wife have 2 sons and 3 granddaughters.
DAN FRISBIE – VICE PRESIDENT
Bio Dan Frisbie – 2014 Indian Chieftain Dan is a retired U.S. Navy Chief Avionics Technician of 23 years and an offshore technician of 10 years in the oil and gas industry. He's now fully retired, goes to college and coaches the Pensacola Miracle League Indians baseball team in his spare time and rides over 13,000 miles per year. His riding passion is only surpassed by his desire to help kids and veterans.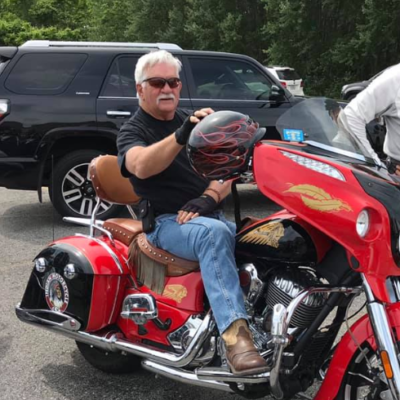 DANIEL JONES – SERGEANT AT ARMS
Retired Techcian from DuPont & Owner of Crosby Antique Mall. Over 33 years working for DuPont as I & E Tech. The worked several years out of state doing same kind of work. Been riding most of my life since age of 16. Love riding, meeting new people and new places.
CHRIS LEE – TREASURER
BIO Chris is a Charter member and motorcycle enthusiast. Owning the major American brands, Indian, HD and Victory. I served in the US Army as an Armor Officer and reside in Louisiana where I met the love of my life, Paula. I have 4 daughters and 5 grandchildren. As a Financial Advisor, CFP, ChFC, my passion for finances carries over to this association.
CARL IANNAZZO – SECRETARY
Chieftain, 2018 Roadmaster Elite. Carl is a retired executive of the United States Postal Service where he served 33 years. Born and raised in St. Louis, MO, he served the USPS in several cities including Atlanta, GA, Nashville, TN, Houston, TX and Memphis, TN. Carl is a passionate motorcyclist making up for lost time